UNITED STATES AIR FORCE INSIGNIA OF THE PERSIAN GULF
UNITED STATES AIR FORCE INSIGNIA OF THE PERSIAN GULF

On SALE NOW!!!

You can order this book by check, money order, credit card, or Paypal. Just follow the directions below, or use the handy secure Paypal button below the advertisement.

Note - The "On Sale Price" is $10.00 + $1.00 Postage & Handling for U.S. & APO/FPO Customers. The Paypal button shows only $10.00, but a .50 cent postage fee and a .50 cent handling fee will automatically be added on to make the Paypal charge $11.00. For Foreign Customers, your cost is $10.00 for the book, plus $4.50 Shipping and .50 cents Handling = $5.00. Or, a total automatic charge of $15.00 when you use the Paypal button.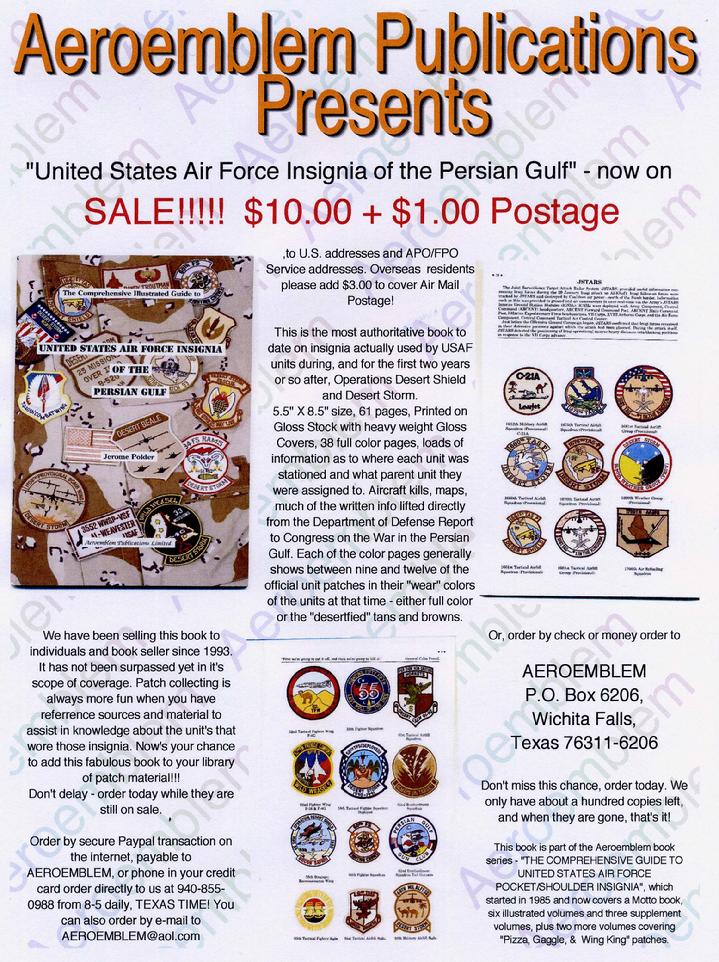 United States Air Force Insignia of the Persian Gulf by JEROME POLDER
Website:

AEROEMBLEM.com
eMail: AEROEMBLEM@aol.com


Address:

AEROEMBLEM

P.O. BOX 6206, Wichita Falls, Texas 76311 U.S.A.
Phone: 940-855-0988 (8-5 Mon-Sat)
All information contained in and on this website is the property of AEROEMBLEM, and cannot be used without the prior permission of AEROEMBLEM
.