"ADP" - THE AUTOMATIC DISTRIBUTION PROGRAM
GREAT DEALS FROM AEROEMBLEM!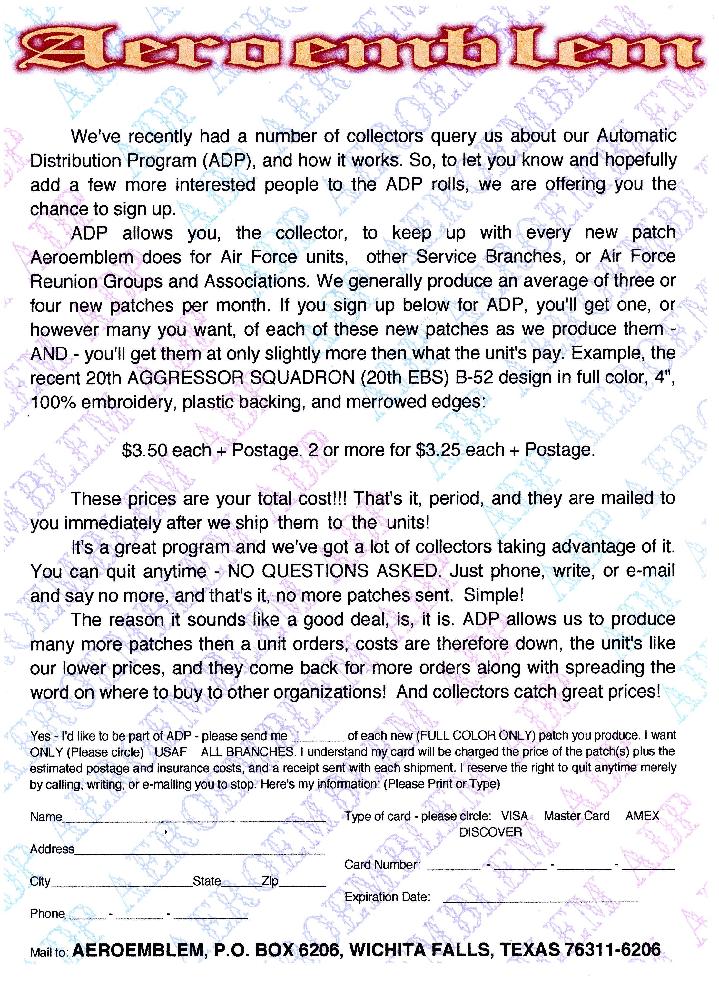 AEROEMBLEM'S Automatic Distribution Program - the easy way for you to obtain new Air Force patches!
A PERFECT PROGRAM FOR THE PATCH COLLECTOR, TRADER, OR DEALER!


The "Automatic Distribution Program", or "ADP", is another GREAT DEAL for you from AEROEMBLEM. We have collectors all over the world who take advantage of this chance to pick up new USAF patches cheap. Many take just 1 or 2, 3, 6, or even 10-20 or more of each new patch. You can print the above form, or send us an e-mail about joining, and we'll respond to whatever questions or concerns you have. Feel free to phone us Monday through Saturday from 8-5 TEXAS TIME, to sign up by phone. We're waiting to hear from you!
Website:

AEROEMBLEM.com
eMail: AEROEMBLEM@aol.com


Address:

AEROEMBLEM

P.O. BOX 6206, Wichita Falls, Texas 76311 U.S.A.
Phone: 940-855-0988 (8-5 Mon-Sat)
All information contained in and on this website is the property of AEROEMBLEM, and cannot be used without the prior permission of AEROEMBLEM
.